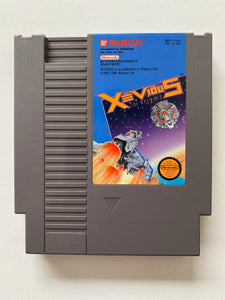 Item Specifics
Condition: Pre-owned
Region code: NTSC-C (China)
Genre: Shooter
Publisher: Bandai America Inc.
Shipping
Ships from Sydney within 24 hours of ordering
Free shipping for all orders within Australia
Order today for delivery between and
Buyer Protection
30-day free returns
Our money back guarantee
Payment Options
Condition Description
The game is in overall very good condition. There are light scratches on the front and back of the cartridge. There are no other signs of wear to the item. The box and manual are not included.
---
Product Description
A hundred thousand years ago, an ancient civilization prospered on our Earth, their product being GAMP (General Artificial Matrix Producer). In order to survive the Ice Age, most of the Earth's inhabitants have decided to leave it, finally settling on a planet called Xevious. A group of humans remained, becoming our own ancestors. Many years have passed, and the Xevians are now planning a massive comeback to their long-lost homeland. The pilot Mu, his android companion Eve, and Mio, a Xevian who opposes the GAMP regime, are back from a space travel just in time to warn the Earth of the upcoming invasion. The prototype fighter craft Solvalou is going to be used as the main weapon against the Xevian attack.

Xevious is a vertically-scrolling shooter which is notable for being the first game of that type to feature an aircraft flying over the Earth (as opposed to the outer space in other games), displaying views of South American nature. It also introduced, for the first time, two types of enemies to fight: aerial and ground-based (the menacing SOL towers invoked by GAMP to aid their planes). The player-controlled ship, Solvalou, is equipped with two weapons, each assigned to a button: the Zapper for air enemies, and the Blaster, which drops bombs on ground targets with the aid of a lock-on. The aerial enemies are divided into sub-categories distinguished by their attack and behavior patterns. Certain enemy types are immune to Solvalou's weapons, and must be avoided.
---
Our Promise
Xevious has been cleaned, tested and is working. If you experience any difficulties in getting the game to run on your system, please contact us via email or live chat. Faulty products will be refunded in full under our 30-day free warranty policy.
All pictures are of the actual products that you will be receiving. If something cannot be seen in the pictures (e.g. a manual), please assume that it will not be included. Feel free to enquire via email or live chat if you have any queries.