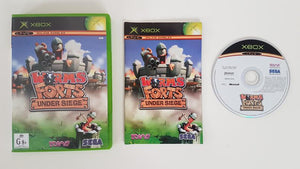 Item Specifics
Condition: Pre-owned
Region code: PAL
Genre: Strategy
Publisher: SEGA of America
Shipping
Ships from Sydney within 24 hours of ordering
Free shipping for all orders within Australia
Order today for delivery between and
Buyer Protection
30-day free returns
Our money back guarantee
Payment Options
Product Description
Worms Forts: Under Siege is a turn-based strategy game where 2 – 4 people battle it out with a team of 4 worms with the help of weapons and forts. Each player takes timed turns bombing, shooting, causing natural and unnatural disasters, punching and blowing up the other opponent's worms. Each worm has a set amount of health and once that health is depleted or the worm drowns that worm is dead.

New to the series is the ability to construct buildings to aid in the fight. Build hospitals to resurrect dead worms, science labs to increase your firepower, strongholds to base your operations in and protect your worms, towers, keeps, castles and citadels to deploy weapons from there tops and weapon factories to produce multiple weapons around it at the start of each turn you take. Along with these typical building you can create Wonders in which your opponent has two turns to knock it down and if they don't succeed you win. If they in turn build there own you must destroy it to win the game.

Along with the typical Worms-style weapons like the mini gun, bazooka, rocket launcher, earthquake and homing pigeon (a homing missile in the form of a pigeon) you will also have weapons to destroy buildings like the trebuchet, fridge launcher, nuclear strike and the Trojan Donkey in which you get to place a Trojan Donkey where you like where it remains until it explodes, how long it takes to explode is not known. Some weapons like the Old Women and Rhino can be steered to your desired location upon which they explode on contact or exploded early by pressing a button.

Throughout the game different crates will fall from the sky or teleport onto the playing field. There are four different types of crates: weapon crates (more powerful weapons); health crates (increase the health of a wounded or sick worm); utility crates, which carry instant utilities such as spy (see contents of all crates on the field), double time (doubling the time for your turn) and double damage (for one turn inflict double the damage); and collectible utilities like freeze (freeze your worms or building to protect them from damage for one turn), parachute (so your worm can safely jump from heights), jet pack (to reach distant locations and heights) and repair (to fix damaged buildings).

Single play allows for a quick game, tutorial, campaign, the trials (death match against the CPU) and the viewing gallery, which allows to view movies you have unlocked in the game by winning matches, how much of the game you have completed, check out the credits and look through the Fortapedia (a list of buildings available in the game and their descriptions).

As with the other Worms games, in multiplayer you have a plethora of options to choose from to set up a match against other people including allowing the CPU to play. Choose schemes (selection of pre-set weapons and game options), landscapes (the type of playing field – Roman, Egyptian, Samurai and Old World), Fortpot (a slot machine that randomly selects three game options from the many available), game settings (wins required, turn time, etc.), worm health and sudden death settings.

---
Our Promise
Worms Forts Under Siege has been cleaned, tested and is working. If you experience any difficulties in getting the game to run on your system, please contact us via email or live chat. Faulty products will be refunded in full under our 30-day free warranty policy.
All photos are of the actual products that you will be receiving. Please check the photos carefully to determine whether the game is CIB (complete in box) before buying. Feel free to enquire via email or live chat if you have any queries.