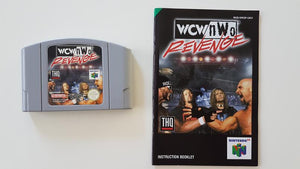 Item Specifics
Condition: Pre-owned
Region code: PAL
Genre: Fighting
Publisher: THQ Inc.
Shipping
Ships from Sydney within 24 hours of ordering
Free shipping for all orders within Australia
Order today for delivery between and
Buyer Protection
30-day free returns
Our money back guarantee
Payment Options
Product Description
Note: the cartridge is in very good condition. It has no signs of wear. The manual is in very good condition. It has no missing pages and no signs of wear.
WCW/NWO Revenge puts the power of the biggest, baddest and meanest wrestlers around the world in the hands of the player. There are more than 60 real and fictional wrestlers - including then-superstars Hollywood Hogan, Kevin Nash, Raven and Goldberg - to choose from to square off in the ring in any of several modes of play.

Each wrestler has an extensive list of moves they are able to perform, although certain physical attributes can affect the availability of certain actions - such as a heavyweight not being able to perform a moonsault from the top ropes, or a cruiserweight not being able to power bomb a larger opponent. The engine is based upon a B-button strike and A-button grapple system. Holding the respective button results in a 'heavy' strike or grapple. Finishing off an opponent generally involves performing your wrestler's special move on them, which can be executed with the flick of the control stick once the wrestler has filled his Spirit Meter, and will be followed with a TV-style instant replay. Depending on the match settings set beforehand, a player can find hidden weapons from the crowd, be assisted or double-teamed by a run-in interference or make his opponent tap out with a submission hold.

There are several match types and game modes, all of which can take place in a number of arenas designed after the current WCW pay-per-view events of the time. New to the series is a 40-man battle royal, allowing for 4 players or computer-controlled wrestlers to square off in the ring at a time until one is pinned or submitted; at which point they are replaced by a new entrant, continuing on and on until up to 40 wrestlers have entered. The main focus of single-player wrestling revolved around the championship mode, in which a player chooses a wrestler and a championship belt to compete for - beginning with the TV Title on up to the WCW World Championship. After defeating a successive series of opponents, the player then goes toe-to-toe with the current holder of the belt for possession of the championship; upon victory a new wrestler and new championship is unlocked. 1-4 player exhibition matches can be set to play out with an assortment of various settings and rules - such as 2 vs. 1 handicaps, no-disqualifications and tag team battles.

The game automatically tracks and saves to the battery the stats and arcade-style scores accrued across the various game modes. Also available to the player is a costume editing feature, allowing for quick color changes to full-on wardrobe conversions for each wrestler.

Revenge was a refinement of the engine seminal wrestling house AKI developed for WCW/NWO World Tour. It would be their final WCW game, as the developer moved on and converted their engine to the WWF license with their next release.

---
Our Promise
WCW nWo Revenge (Cartridge and manual) has been cleaned, tested and is working. If you experience any difficulties in getting the game to run on your system, please contact us via email or live chat. Faulty products will be refunded in full under our 30-day free warranty policy.
All photos are of the actual products that you will be receiving. Please check the photos carefully to determine whether the game is CIB (complete in box) before buying. Feel free to enquire via email or live chat if you have any queries.