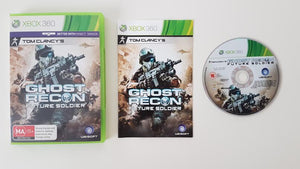 Item Specifics
Condition: Pre-owned
Region code: PAL
Genre: Shooter
Publisher: Ubisoft
Shipping
Ships from Sydney within 24 hours of ordering
Free shipping for all orders within Australia
Order today for delivery between and
Buyer Protection
30-day free returns
Our money back guarantee
Payment Options
Product Description
Future Soldier is the fifth main game in the Ghost Recon series. Just like the other installments it is a tactical 3rd-person shooter where a strategic approach based on cover and stealth is favoured over going in all guns blazing. The game is set in 2024 and the main campaign consists of twelve missions. It starts in Nicaragua where the ghost team Predator attempts to disrupt weapon trafficking in the region. During the mission the team is killed by a dirty bomb and afterwards a new team called Hunter is sent in to investigate the bomb's source. The player controls the team of four soldiers through a story that takes them to Bolivia, Zambia, Nigeria, Pakistan, Norway and Russia.

The game is played from third-person perspective but switches to first-person while aiming down the sights. Enemies can be taken out with guns but also with silent melee attacks. The soldiers can move around freely in the environment, usually from cover to cover, and have access to adaptive camouflage that renders them invisible when moving slowly and it is enabled or disabled automatically. Cover can be destroyed and while under attack or shooting the camouflage is removed. Another part of the equipment is magnetics, a view that makes all metallic objects pop out in the environment. Before starting a mission the loadout is determined, based on a primary and a secondary weapon, and two items. Guns can be fully customized in the Gunsmith mode where various attachments and modifications can be applied. Combinations can also be tested on a firing range before starting a mission. Other equipment includes sensor grenades, airstrikes, and remote-controlled drones. The drone provides an aerial view, has its own camouflage and a sonic blast to disorient enemies, and can be used to mark opponents next to using a scope. One mission features the War Hound, a remote-controlled heavy robot.

Players can prioritize targets using Sync Shot, where up to four can be marked for a synchronized takedown by the full team. Team mates do not blindly pursue targets and stand down when it compromises their position permanently. Their other actions are done through autonomous AI not influenced by the player. The tagging system replaces the direct order system from the previous games. When the player's soldier is targeted by suppressed fire, the field of vision narrows down, making it harder to aim. Each campaign missions has four additional objectives to unlock further weapons and upgrades. Many story elements are provided through the chats between the team members.

Multiplayer includes a four-player cooperative mode with the campaign along with a separate Guerrilla mode where an outpost needs to be defended, as well as competitive multiplayer with four game modes based on the two factions Ghosts and Bodark:Conflict: two teams fight for objectives on a map. Once an objective has been taken, it needs to be defended against the other team for a certain amount of time. When it is completed, a new objective is activated.

Decoy: two teams fight over three objectives over three rounds of ten minutes. Two objectives are decoys and one is the real one. Once the latter has been revealed, a fourth and final objective is revealed. Neither team knows which the key objective is and take turns defending and attacking. To win a round attackers need to complete all objectives and the other team needs to defend them. Upon completion of the real objective the round timer is increased to provide more time to go after the final one.

Saboteur: two teams attempt to grab a neutral bomb in the middle of the map to blow up the opponent's base. The one to hold the bomb cannot run and only uses a secondary weapon. If it is not detonated after ten minutes, the team with the most teamwork actions wins.

Siege: in three rounds of five minutes the offensive team attempts to transmit intel while the defenders protect the objective. There are no respawns and the defenders initially spawn near the objective, while attackers spawn all around the map and have a spawning handicap of ten seconds.


---
Our Promise
Tom Clancy's Ghost Recon Future Soldier has been cleaned, tested and is working. If you experience any difficulties in getting the game to run on your system, please contact us via email or live chat. Faulty products will be refunded in full under our 30-day free warranty policy.
All photos are of the actual products that you will be receiving. Please check the photos carefully to determine whether the game is CIB (complete in box) before buying. Feel free to enquire via email or live chat if you have any queries.