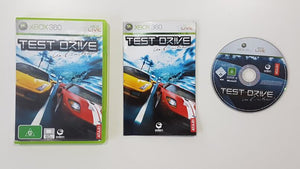 Item Specifics
Condition: Pre-owned
Region code: PAL
Genre: Racing
Publisher: Atari
Shipping
Ships from Sydney within 24 hours of ordering
Free shipping for all orders within Australia
Order today for delivery between and
Buyer Protection
30-day free returns
Our money back guarantee
Payment Options
Product Description
Note: there are light scratches on the disc.
Test Drive Unlimited lets the player choose one of several characters, both male and female, waiting at an airport to check in for their flight to the Caribbean dream island O'ahu located in Hawaii. The characters do not have different statistics, that only applies to the extravagant, licensed cars.

The whole island is accessible from the beginning and after the player has bought his first home and car, he can either drive around and look for events or load up the map and jump directly to a location of a race, a car salesman or other locations - similar to Need for Speed Underground. Every bought car has a built-in navigation system, guided by a woman's voice to get the player to his destination, either pre-programmed in the game or decided by the player.

There are over 125 different cars and motorcycles in different price ranges to choose from. From the Audi TT over the Jaguar XJ200 to the McLaren F1 and Kawasaki Z1000, there is everything the character needs as a young man or girl with too much money on their hands. Each car has its own, realistic set of characteristics such as speed or handling, but they all have a highly detailed exterior and interior in common.

The character starts with $200.000 dollars in his pocket, but there will not be anything left after buying a first car and home. Additional cash needs to be earned in different kinds of races from checkpoint challenges to time trials. The money cannot only be used to buy new homes and new cars (and a little tuning for those), but also to buy new outfits for the avatar.

The heart of Test Drive Unlimited is the online mode. Using a GameSpy account, players connect to the official TDU server immediately after loading the game. New options become available online, such as a meeting lounge where the statistics and looks of other players can be looked up. It also provides access to player-created matches shown on the map screen. Creating a race here also works in the singleplayer modes. At any location, the start and finish can be defined, as well as the type of the race, which type/classes of cars or bikes are allowed and how many people can participate. If not all slots have been filled up by other players, the AI will take control of the rest.

The PSP and PS2 versions have a lower visual quality and lack a few features, such as manual transmission, avatar customization, certain cars and all motorcycles, dealership and tuning shop NPCs, the vehicle interior camera angle and certain missions. They do include Master Points and Auto GPS, and certain default vehicles only available for the 360 version through download packs.
---
Our Promise
Test Drive Unlimited has been cleaned, tested and is working. If you experience any difficulties in getting the game to run on your system, please contact us via email or live chat. Faulty products will be refunded in full under our 30-day free warranty policy.
All photos are of the actual products that you will be receiving. Please check the photos carefully to determine whether the game is CIB (complete in box) before buying. Feel free to enquire via email or live chat if you have any queries.