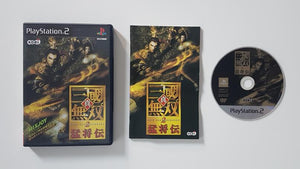 Item Specifics
Condition: Pre-owned
Region code: NTSC-J (Japan)
Genre: Action-adventure
Publisher: KOEI Corporation
Shipping
Ships from Sydney within 24 hours of ordering
Free shipping for all orders within Australia
Order today for delivery between and
Buyer Protection
30-day free returns
Our money back guarantee
Payment Options
Product Description
Note: the region code of the game is NTSC-J, so only a NTSC-J region-coded PS2 can play the game.
About 1800 years ago in China, there were three fearless warriors battling for ultimate control over the country. One who sought hegemony. One who sought ambition. One who stood up for righteousness. Veterans who shared the same swarmed under each leader. These stalwart souls waged war across the vast expanse of the land and, like blood thirsty demons, cut down any and all who stood in their way.

They followed their own rules, they were both revered and feared by millions... they are the Dynasty Warriors.

Dynasty Warriors 3 takes place over the 50 years of war recounted in Romance of the Three Kingdoms, from the first flames of battle in the Yellow Turban Rebellion to the final battle between Wei and Shu on the plains of Wu Zhong. Over 40 characters are playable, both from the three main sides as well as leaders of lesser armies along the way. Each character that belongs to either Wu, Wei, or Shu has their own series of levels where they will turn the tide of battle for their force to win. Each character has their own unique weapon type and magic ability, although they can share weaker variations of weapons with other characters who use the same style of weapon. Weapons and items are dropped randomly from boxes in levels as well as from defeated enemy generals, and each has a range of stats dependent on the difficulty level and the strength of the general. The most powerful weapons and items, however, can only be collected by completing hidden objectives as each character. Characters grow more powerful by collecting stat up items from defeated generals, and doing well in levels rewards points that level up the bodyguards who follow the player character.

Most completed levels can be replayed with any character and any side in free mode. An encyclopedia is included as well that details every event and character from the Romance of the Three Kingdoms, even those that never appear in Dynasty Warriors 3.

---
Our Promise
Shin Sangokumusou 2 Moushou Den has been cleaned, tested and is working. If you experience any difficulties in getting the game to run on your system, please contact us via email or live chat. Faulty products will be refunded in full under our 30-day free warranty policy.
All photos are of the actual products that you will be receiving. Please check the photos carefully to determine whether the game is CIB (complete in box) before buying. Feel free to enquire via email or live chat if you have any queries.