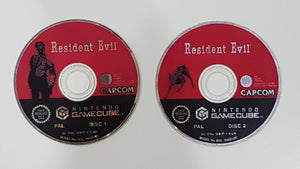 Item Specifics
Condition: Pre-owned
Region code: PAL
Genre: Survival Horror
Publisher: Capcom Entertainment
Shipping
Ships from Sydney within 24 hours of ordering
Free shipping for all orders within Australia
Order today for delivery between and
Buyer Protection
30-day free returns
Our money back guarantee
Payment Options
Condition Description
There are many light scratches on both discs.
---
Product Description
Special forces S.T.A.R.S. Bravo team's helicopter malfunctioned and crashed during their mission, disappearing into the Arklay Mountains. This and what happens to them is told in the story of Resident Evil Zero. Now, S.T.A.R.S. Alpha team is sent on a mission to investigate a series of murders around Raccoon Forest. Spotting the Bravo team's helicopter, or what's left of it, they land nearby and investigate the surrounding area. Unaware of what they might expect, one member is attacked and devoured by zombified dobermans. The rest of the team, with a little bit of luck, find shelter in a nearby mansion, not knowing it was probably better to stay out.

You play the entire game with one of the two selectable characters, Chris Redfield, or Jill Valentine. The starting point is the lobby of the mansion the three surviving S.T.A.R.S. members just stepped in. After a short while, the team decides to split and search for any possible survivors or anything useful that may help them break out of this dreadful place. To their amazement, they encountered an enemy they never were trained to confront, zombies. There is only one mission to be considered now: survival.

The GameCube and the later Wii versions are largely a remake of the original Resident Evil for the PlayStation, with some additions. While the floorplan of the returning locations is almost entirely unchanged, several new areas have been added in, extending your stay in the mansion. A new enemy, Lisa, has been added to the game, making your trips outside of the mansion much more dangerous. Finally killing a zombie is now no longer good enough to put them to rest. They must be destroyed totally with fire or else they will rise again; faster, deadlier, and madder than before.

The 2015 PS3, PS4, Xbox 360, Xbox One and Windows version called Resident Evil (also known as Biohazard: HD Remaster) is a remastered version of GameCube remake of the original Resident Evil with enhanced graphics and sounds, widescreen support and an alternative control scheme next to the default one. Additionally, when starting a new game, the player can choose between original character models, or Chris and Jill models from Resident Evil 5 which came after the original GameCube release.

---
Our Promise
Resident Evil (Disc only) has been cleaned, tested and is working. If you experience any difficulties in getting the game to run on your system, please contact us via email or live chat. Faulty products will be refunded in full under our 30-day free warranty policy.
All pictures are of the actual products that you will be receiving. If something cannot be seen in the pictures (e.g. a manual), please assume that it will not be included. Feel free to enquire via email or live chat if you have any queries.