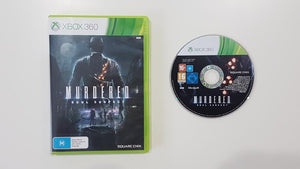 Item Specifics
Condition: Pre-owned
Region code: PAL
Genre: Action-adventure
Publisher: Square Enix
Shipping
Ships from Sydney within 24 hours of ordering
Free shipping for all orders within Australia
Order today for delivery between and
Buyer Protection
30-day free returns
Our money back guarantee
Payment Options
Product Description
Murdered: Soul Suspect is a third-person adventure game with minor action and stealth elements. The game is set in Salem, Massachusetts (USA) and the protagonist is detective Ronan O'Connor, a former convict who bettered his life and joined the force. The game opens with his death. In pursuit of the Bell Killer, a serial killer who terrorizes the town, he is thrown out of a window and then dies after being shot. Instead of passing away, he turns into a ghost and meets his long dead wife Julia who tells him he is between worlds as there is something unresolved about his life. He needs to figure out who killed him and stop that person. He can move around freely in the open world environment of the town and is not hindered by physical borders, but cannot pass through obstacles that only exist in the spirit world. There are other rules, as he can only enter houses and buildings when a door or a window is open.

Despite the freedom of movement the investigation needs to be done in a linear way. Starting with his own crime scene, O'Connor needs to collect different types of clues to move on to new locations and progress through the story. Each location has a number of clues to discover, but only the crucial ones need to be found. To advance, he then needs to answer questions about the scene in the form of a puzzle, built up through the clues. After guessing successfully, the game moves on, usually to a new environment. The player is allowed to make mistakes as it only leads to a lower ranking of the puzzle. Even though O'Connor can examine the environment, he is not able to interact with it directly. He has however access to a number of powers that allow him to influence people, eavesdrop on conversations, possess people directly and peek. Certain areas can only be reached by possessing a cat and sneaking inside. Possessing people does not offer direct control over them, but provides control over their senses and mind-reading. There are also side missions, not related to the story, where O'Connor needs to help out a fellow ghost move on to a next world by answering questions through gathering clues in the environment.

Certain parts of the game are spent with Joy, a little teen medium he meets early on, who explains the world to him and often acts as a sarcastic sidekick. They need to work together as Joy can manipulate the environment to help him. In these stealth sections O'Connor often needs to distract people using his presence and poltergeist actions to clear the way. The other stealth actions segments are provided through encounters with demons. These roam various locations and O'Connor can execute them out by sneaking up from behind and performing a combination of keys and buttons. If they spot him however, he needs to quickly shift between ectoplasm hiding spots in the environment to stay out of their way. When performed successfully, they will stop the search and leave after a while. If O'Connor possesses a human he cannot be spotted by demons.

Starting with the four initial powers, O'Connor learns new abilities throughout the game, such as teleportation across short distances, telekinesis to a limited degree, and the ability to pick up memory residue that introduces memories he can visit as if in a movie to find clues for the investigation. There are 242 optional collectibles to collect: nine sets of artifacts, and eight sets of artifacts for all the ghost stories.

---
Our Promise
Murdered Soul Suspect has been cleaned, tested and is working. If you experience any difficulties in getting the game to run on your system, please contact us via email or live chat. Faulty products will be refunded in full under our 30-day free warranty policy.
All photos are of the actual products that you will be receiving. Please check the photos carefully to determine whether the game is CIB (complete in box) before buying. Feel free to enquire via email or live chat if you have any queries.