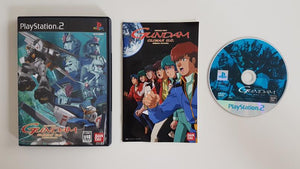 Item Specifics
Condition: Pre-owned
Region code: NTSC-J (Japan)
Genre: Action-adventure
Publisher: BANDAI NAMCO Entertainment Inc.
Shipping
Ships from Sydney within 24 hours of ordering
Free shipping for all orders within Australia
Order today for delivery between and
Buyer Protection
30-day free returns
Our money back guarantee
Payment Options
Product Description
Note: there are light scratches on the disc, however it has been tested and is working.
Mobile Suit Gundam: Climax U.C. is an action game set in the original Universal Century Gundam timeline. Players can experience the events in Chronicle or Progress mode, or take any unlocked pilot and MS into VS Mode against a human opponent. In Chronicle mode the players chooses a Gundam series to play through. Initially only the series protagonist (i.e. Amuro Ray or Kamille Bidan) is playable, but completing a series will unlock minor characters and antagonists as playable for the events. In Progress Mode the player plays as Kamina Tachibana, an ensign of either the Earth Federation or Principality of Zeon whose military career starts during the attack on Jaburo. The player can select Kamina's personality, the mech he pilots during a mission, and how to distribute his skill points after a mission. Performing well on a mission and using weaker mobile suits will give Kamina more skill points to distribute, and piloting specific mechs will unlock the ability to acquire specific Active Skills. Kamina's stages run the full length of the Universal Century timeline, including his retirement during the 30 years of peace following Char's Counterattack and the new conflict during Gundam F91. Up to 12 personalized Kaminas can be saved for VS or the free battle Extra mode.

During a mission each mobile suit has a melee attack, a ranged attack, and can boost or fly for a limited time. Charging a melee attack increases its range and damage, while charging a ranged attack will use the MS's higher tier, slower weapons. Each pilot also has an Active Skill, such as Amuro's Newtype senses or Haman Karn's Pressure, that they can activate to boost their power. Defeating enemies in quick succession begins a combo, awarding more points and unlocking "cards". Cards can be viewed on the title screen, and may open up new MS and Pilots to be used in Progress and VS modes, have music tests, or just include more information about the world of Gundam.

This game includes events from: Mobile Suit Gundam
Mobile Suit Gundam: The 08th MS Team
0080: War in the Pocket
0083: Stardust Memory
Mobile Suit Z Gundam
Mobile Suit Gundam ZZ
Mobile Suit Gundam: Char's Counterattack
Mobile Suit Gundam F91
Additionally the game includes playable mecha from: Mobile Suit Gundam F90
Mobile Suit Crossbone Gundam


---
Our Promise
Mobile Suit Gundam Climax U.C. has been cleaned, tested and is working. If you experience any difficulties in getting the game to run on your system, please contact us via email or live chat. Faulty products will be refunded in full under our 30-day free warranty policy.
All photos are of the actual products that you will be receiving. Please check the photos carefully to determine whether the game is CIB (complete in box) before buying. Feel free to enquire via email or live chat if you have any queries.