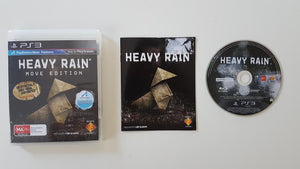 Item Specifics
Condition: Pre-owned
Region code: PAL
Genre: Action-adventure
Publisher: Sony Computer Entertainment America
Shipping
Ships from Sydney within 24 hours of ordering
Free shipping for all orders within Australia
Order today for delivery between and
Buyer Protection
30-day free returns
Our money back guarantee
Payment Options
Product Description
How far are you willing to go to save someone you love?

The Origami Killer has struck again. Recognized by his unique habit of leaving an origami figure at the center of his crimes, the serial killer has taken another victim. With his pattern of killing his victims within four days time is running out to save him. This is where the lives of four characters become entangled as they all search to stop the Origami Killer: Ethan Mars, a former architect overcome with depression and guilt over an accident leading to one of his son's death; Norman Jayden, an FBI profiler investigating the Origami case using an experimental device known as ARI (Added Reality Interface); Madison Paige, a nightmare filled journalist who unexpectedly finds her way into the investigation; and Scott Shelby, a private eye hired by families of victims of the serial killer to find things the authorities may have missed.

Heavy Rain is an interactive drama title combining adventure and action elements. The story revolves around the lives of four characters as they try to stop the Origami Killer from taking the life of another victim. The game has a heavy emphasis on user choices, with different decisions you make completely changing the way the story unfolds and which will lead to one of the many possible endings the game offers. There is no game-over screen if one of or all of the main characters die, there will just be a different ending given.

Similar to Quantic Dream's previous title Indigo Prophecy/Fahrenheit, the game is moved along primarily by the use of QTEs (Quick Time Events). Movement of your character is done by holding the R2 button and choosing a direction with the left analog stick. Holding the L2 button brings up your characters thoughts and pressing the button to go along with each thought will lead him/her to say or do something.

Budget re-release of Heavy Rain includes game patch to support PlayStation Move controller (the patch can also be downloaded as standalone for free). That includes budget releases such as Platinum (in Europe), Greatest Hits (in America), or PlayStation 3 the Best (in Asia).

---
Our Promise
Heavy Rain has been cleaned, tested and is working. If you experience any difficulties in getting the game to run on your system, please contact us via email or live chat. Faulty products will be refunded in full under our 30-day free warranty policy.
All photos are of the actual products that you will be receiving. Please check the photos carefully to determine whether the game is CIB (complete in box) before buying. Feel free to enquire via email or live chat if you have any queries.