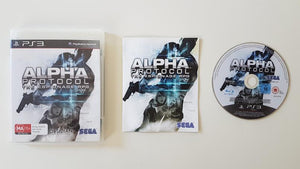 Item Specifics
Condition: Pre-owned
Region code: PAL
Genre: Shooter
Publisher: SEGA of America
Shipping
Ships from Sydney within 24 hours of ordering
Free shipping for all orders within Australia
Order today for delivery between and
Buyer Protection
30-day free returns
Our money back guarantee
Payment Options
Product Description
Michael Thorton. A name without a past. A person whose life before joining Alpha Protocol no longer exists. Alpha Protocol being a clandestine service without any ties to the US government and specialized in covert operations to protect home and country. Thorton's mission: Assassinate the leader of Al-Samad known as "Shaheed". Shaheed's crime: Destroying a passenger plane in the Middle East. An easy task it would seem. But life is never that easy - especially if one has to deal with terrorists. In the end, Shaheed is just the beginning of a greater conspiracy and it's up to Mike and the player to solve it.

Alpha Protocol is a hybrid of role-playing game and shooter, bearing certain similarities to Deus Ex. The player takes control of Michael Thorton after his initiation into the world of Alpha Protocol, looking over his shoulder. At the start of the game, the player has to choose one of four classes (Soldier, Field Agent, Tech Specialist, Freelancer). The choice mostly determines his past as he can change all pre-defined skills before the final start of the game. In addition the player has to customize the basic look of Mike, although during the course of the game he is still able to change his appearance at his safe house and certain lockers scattered around the levels. He is limited to facial features (including color) and clothing, however.

After the first mission, the player advances the story by sending the protagonist to Rome, Moscow and Taipei, in any order. Here, the player is able to select and prepare his next mission in peace. There's a TV which allows the player to keep up with current events (or get new assignments), a weapons locker to choose his load-out with and, more importantly, a computer to check his email and visit the "Clearinghouse". The latter is a black market service where the player can sell stuff he found during missions and buy additional gear (including weapons, armor and special items) or upgrades like a bigger magazine for the pistol. The money needed for that, however, the player has to earn himself. Alpha Protocol doesn't want to be traced back to Mike, so during the missions, the player not only fulfills his given objectives (may they be capturing or killing an enemy or finding intel), but is also on the lookout for money-bags lying around or ways to convince other people to give him some. The conversation system is somewhat similar to Mass Effect 2, offering several different choices. that do not spell out the whole sentence, but only the tone or topic of the answer. As opposed to the BioWare game, the player only has a limited time to make his/her choice. The amount of available choices the player has greatly depends on how much Mike knows about the person he's facing, increasing the need for him to gather intel before, during and after missions. One way again is the Clearinghouse which also offers ways to make a mission easier like bribing a bunch of guards to not show up for work that day.

Depending on his choice during a dialogue or simply by answering an email a special way and during normal gameplay, not only his relationship with the person he's talking to changes - news of the player's actions travel around the world, changing how enemies and friends alike view the player even before their first encounter, making it sometimes easier or more difficult for Mike to persuade his opponent. Every person in the game even reacts to certain kinds of attitudes better than others. Being suave to Mina (another employee of Alpha Protocol) may seem a good idea at first but she's more into the professional type for example.

If all fails and on his way to the main target, Mike has several other options to deal with a situation, the most obvious one being to pull out one of his several different types of guns and shoot his way through the mission. But even then just going in and pulling the trigger is mostly a waste of ammo as taking the time and aim increases not only the accuracy but also the change to score a critical hit. If the player is more of a peaceful and/or sneaky nature, he can however take the stealth-route. This allows him to make one-hit take downs of an unsuspecting enemy as well as avoid many obstacles. Especially sneaking around involves a lot of hacking, lock-picking doors and rerouting electronics to go around enemies, stop alarms or just get additional intel. Each of these tasks involves a small mini-game which increases in difficulty as the player advances through the game.

Each kill, hack, successful dialogue and completed mission objective earns Mike experience points which in turn allow him to level up and earn advancement points. These are used to upgrade the nine available skills like "Stealth" or "Assault Rifles" up to 10 times. If a skill is completely upgraded, the player can then choose to specialise it, unlocking 5 additional ranks to dump points in. This can, however, only be done for three skills. Investing points into a skill unlocks both permanent bonuses like less recoil when using a pistol to special abilities. "Awareness" for example is a stealth-ability which allows the player to see all enemies and which direction they are currently facing even through walls. At higher stealth-ranks, this effect becomes permanent.

---
Our Promise
Alpha Protocol has been cleaned, tested and is working. If you experience any difficulties in getting the game to run on your system, please contact us via email or live chat. Faulty products will be refunded in full under our 30-day free warranty policy.
All photos are of the actual products that you will be receiving. Please check the photos carefully to determine whether the game is CIB (complete in box) before buying. Feel free to enquire via email or live chat if you have any queries.