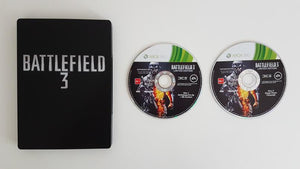 Item Specifics
Condition: Pre-owned
Region code: PAL
Genre: Shooter
Publisher: Electronic Arts
Shipping
Ships from Sydney within 24 hours of ordering
Free shipping for all orders within Australia
Order today for delivery between and
Buyer Protection
30-day free returns
Our money back guarantee
Payment Options
Product Description
Note: there are scratches on the disc.
Battlefield 3 is the direct sequel to 2005's Battlefield 2 and is the 11th overall entry in the Battlefield franchise. Powered by the Frostbite 2 engine, Battlefield 3 aims to provide the fast paced, team oriented online multiplayer the series has made its name upon while also providing the first true single player campaign in a numbered Battlefield game, and for the first time in any Battlefield game numbered or not is a cooperative mode. The game also introduces the Battlelog feature, an in browser service which gives in-depth statistics for individual soldiers such as their Win/Lose ratio, their favourite weapon, how accurate they are - and so forth. Battlelog also allows players to create Platoons which are not unlike clans which track the stats of a combined group, allows for scrimmaging, voice communications, and parties which will attempt to bundle friends and platoon members into squads together if possible. The game is also launched from Battlelog although settings are altered in game.

The campaign is set in the not-too-distant future of 2014, in which players take on the role of Staff sergeant Henry Blackburn and occasionally other members of his 5 man squad. For the majority of the story, Blackburn is being interrogated about knowledge of an attack on New York and as such the missions take place in a disjointed, flashback fashion as Blackburn recounts his encounter with the PLR - a dangerous terrorist organization who may be after chemical and nuclear weapons. The campaign plays like most other shooters, as the player uses various weapons to dispatch enemies and push to the end of each scenario often aided with AI companions. The campaign does offer some variety though, occasionally allowing the player to ride inside tanks, jets, and helicopters - but unlike multiplayer, it is rare that the player gets a chance to actually drive these vehicles.

The multiplayer suite contains Conquest, the classic Battlefield mode in which teams compete to control various points on a map and drain the enemy teams tickets - Rush, in which attackers attempt to destroy M-Com stations and the defenders must dwindle their tickets to 0 to win, Team Deathmatch which is self explanatory, and a Squad based variation of Rush and Deathmatch in which individual squads try to take the M-Com Stations for themselves or wipe out other squads. Like in past Battlefield games, there are multiple classes. The Assault class uses assault rifles and carries medic kits and defibrillators to heal and revive teammates, respectively. The Support class uses light machine guns and carry Ammo packs to resupply teammates and C4 which can be used to destroy tanks or crumble buildings. The Engineer class uses sub-machine guns, has a blow torch for repairing vehicles and a rocket launcher for destroying them. Lastly, the Recon class carries long range rifles and uses motion detectors and mobile spawn points to detect enemies and allow friendlies to spawn anywhere on the map. All classes can unlock new gadgets and specializations, each weapon also has an unlock tree that unlocks weapon specific items based on how often and how well that particular weapon has been used. The same applies to vehicles, which consist of tanks, IFVs, Armored personnel carriers, hummers, jeeps, helicopters and returning from Battlefield 2 are Jets.
---
Our Promise
Battlefield 3 Steelbook Edition has been cleaned, tested and is working. If you experience any difficulties in getting the game to run on your system, please contact us via email or live chat. Faulty products will be refunded in full under our 30-day free warranty policy.
All photos are of the actual products that you will be receiving. Please check the photos carefully to determine whether the game is CIB (complete in box) before buying. Feel free to enquire via email or live chat if you have any queries.